ORLANDO, Fla. (WDRB) – In Tuesday's VRBO Citrus Bowl, Penn State is playing for its third straight 10-win season. Kentucky is playing for the third 10-win season in its history.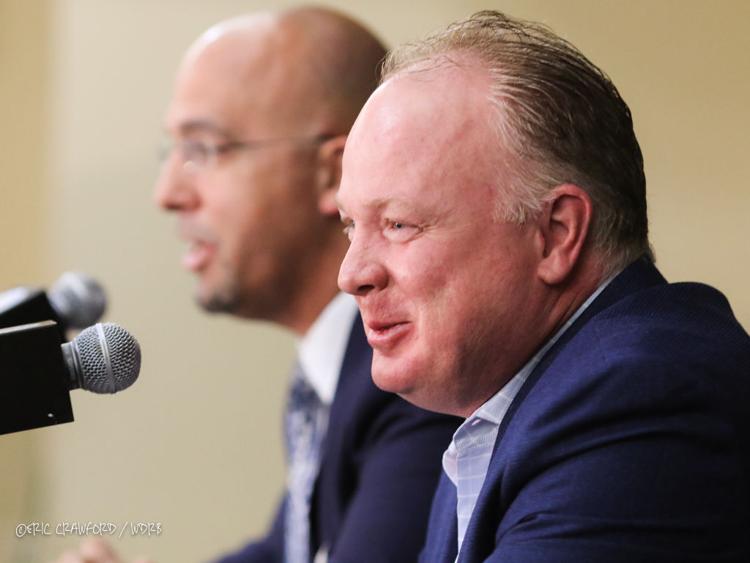 That, as well as anything, sums up the historical contrast between programs. Kentucky will play in a New Year's Day bowl for the fourth time. Penn State is making its 25th appearance in a New Year's Day bowl.
Seasons like this one don't happen all the time for Kentucky. It has been 41 years since the Wildcats won double-digit games. This Kentucky team, which plugged away until it got a chance to play a home game for the right to play in the SEC Championship game, has a chance to climb a notch in historical estimation when the teams meet at 1 p.m. in Camping World Stadium.
While players today don't really consider their place in history all that much, and couldn't tell you much about the programs they play for from before their own signing date, the opportunity for this team to do something special isn't lost on Wildcats' coach Mark Stoops.
From the standpoint of posterity, in fact, the game means far more to Stoops and Kentucky than it does to James Franklin and Penn State.
"It's extremely important," Stoops said Monday morning. "Obviously, competing against Penn State, the history that they have, the storied program — that's very important to us and motivating for us. Playing Penn State and competing against Penn State, playing on New Year's Day, getting a tenth victory — it's very important. It hasn't happened very many times in the history of our program to so get 10, hit that milestone, is another motivating factor."
Franklin is using the 10-win motivation, too. Penn State hasn't had three straight 10-win seasons since 1980-82, before the program moved to the Big Ten Conference.
"It's a benchmark," he said. "You probably have two different benchmarks for programs across the country. Some programs are benchmarked on going to bowl games and that's kind of the first level, and then I think the next level is 10 win seasons."
Kentucky, clearly, is trying to climb to the next level. Beyond the 10-win milestone, winning a bowl game at all would be a step for the Wildcats, who are 10 years removed from their last bowl win, having lost four straight, including going 0-3 under Stoops.
Aside from Louisville, Kentucky rarely schedules Power 5 opponents in non-conference games. So a crack at a program like Penn State is special. A win would raise the program in the estimation of observers outside of SEC country.
Regardless, just being at this point is a step in itself for Kentucky. While Stoops felt like he had a shot at being much improved, most people didn't share in his optimism before the season. Kentucky had gone into seasons with high expectations before, only to disappoint.
This year's team, when it started the season with five wins, including the win at Florida and a victory over No. 14 Mississippi State, changed the conversation. When it escaped with a win at Missouri and debuted at No. 9 in the College Football Playoff rankings, it changed the discussion more. The only real stumble was a 24-7 loss at Tennessee.
KENTUCKY'S BOWL HISTORY
| Date | Bowl | Result |
| --- | --- | --- |
| Dec. 6, 1947 | Great Lakes | UK 24, Villanova 14 |
| Jan. 2, 1950 | Orange | Santa Clara 21, UK 13 |
| Jan. 1, 1951 | Sugar | UK 13, Oklahoma 7 |
| Jan. 1, 1952 | Cotton | UK 20, TCU 7 |
| Dec. 31, 1976 | Peach | UK 31, N. Carolina 0 |
| Dec. 22, 1983 | Hall of Fame | WVU 20, UK 16 |
| Dec. 29, 1984 | Hall of Fame | UK 20, Wisconsin 19 |
| Dec. 31, 1993 | Peach | Clemson 14, UK 13 |
| Jan. 1, 1999 | Outback | Penn State 26, UK 14 |
| Dec. 29, 1999 | Music City | Syracuse 20, UK 13 |
| Dec. 29, 2006 | Music City | UK 28, Clemson 20 |
| Dec. 31, 2007 | Music City | UK 35, Florida State 28 |
| Jan. 2, 2009 | Liberty | UK 25, ECU 19 |
| Dec. 27, 2009 | Music City | Clemson 21, UK 13 |
| Jan. 8, 2011 | BBVA Compass | Pitt 27, UK 10 |
| Dec. 31, 2016 | TaxSlayer | Georgia Tech 33, UK 18 |
| Dec. 29, 2017 | Music City | Northwestern 24, UK 23 |
"I think the big thing was we had some experience," Stoops said. "We had some talent. You know, you could see that coming to fruition this year with the guys that have been around. Like James mentioned, they have been here three, four years. They played a lot of football. We have 16 seniors. Each of those seniors contributes. You know, that's a big indicator. I think how they work, the unity that this team has — those are a lot of things that people don't see, how hard they're working, last winter through winter conditioning. We had a great spring through the summer, the way guys were training. So those are things I felt very comfortable with. The leadership of this team, we had some talent. Sure, we had some holes to fill, but we felt good about our options and really the biggest thing is the attitude of this team. So that was good."
Kentucky has the nation's most decorated defensive player in Josh Allen. They have an NFL talent in running back Benny Snell Jr. They have other pro talent sprinkled around both sides of the ball. Franklin, who got to know Stoops and Kentucky in his time as coach at Vanderbilt, said they're a while new ballgame now.
"We kind of live in a society, and specifically when it comes to college football, that everybody wants a quick fix," Franklin said. "It doesn't work like that. And, you know, Coach (Stoops) needed time to come in and get his philosophy in place and his program in place, and for all of us, that takes time — that takes a number of years. And that's what you see right now. You see a football program that has taken on his identity. They're tough. They're hard-nosed. They play really hard. They play together. They've got really good schemes and offense, defense and special teams, and they've done a good job of going out and finding talent. And what I've been impressed by is finding talent in areas that probably Kentucky hasn't gone to in the past. Obviously, Coach's background in Ohio helps and makes a whole lot of sense. I'm not really happy that they got one specific guy out of New Jersey (Allen) who should have been probably been playing at Penn State. But that's kind of what I see. They have been creative. . . . And now that he's been there long enough his vision is in place. And that's why you see the success that they're having."
Stoops' vision, however, isn't just getting to bowl games, it's winning them. At least, in this game, motivation should not be a problem.
"It shouldn't be hard to motivate our team at this point," Stoops said. "Playing Penn State and playing for 10 victories, playing on January 1, you know, that's motivating enough."
Copyright 2018 WDRB Media. All Rights Reserved.