The Alabama men's basketball team dropped its third game in a row to end the regular season Saturday, losing 82-70 at Arkansas, and is limping into the SEC Tournament needing a win or two.
The Crimson Tide was on the bubble entering Saturday's road game at Bud Walton Arena after losing to LSU and Auburn, and a win over the Razorbacks would have increased its odds to make the NCAA Tournament field. Now, there is work to do in Nashville where Alabama will be the No. 10 seed and will face No. 7-seed Ole Miss on Thursday, March 14, at 6 p.m. CT.
"It's probably good that we're in a situation where you either win or go home. Maybe that's just what this team needs," head coach Avery Johnson said after the game. "… We've been talking about the same things all year long. I'm the head coach, so I am 99.9 percent responsible.
"But that other 0.1 percent, we need guys to take individual responsibility, be ready to play, take care of themselves. Not one time since I've been here, I've never blamed our players for anything that's wrong with our team. I have to do a better job, and hoping now, with our backs against the wall, everything we're talking about in terms of spacing, catching the ball with two hands, going up strong, finishing our dunks, having positive imagery at the free throw line, everything and what we value on offense and defense, I'm hoping that now that we don't have too many more opportunities to get it right, we'll get it right." 
Alabama (17-14, 8-10 SEC) was being projected as a 12 seed in the NCAA Tournament before Saturday's regular-season finale, but according to CBS Sports' Jerry Palm, the Crimson Tide is now one of the first four teams out of the tournament. UA's NET ranking dropped to No. 58.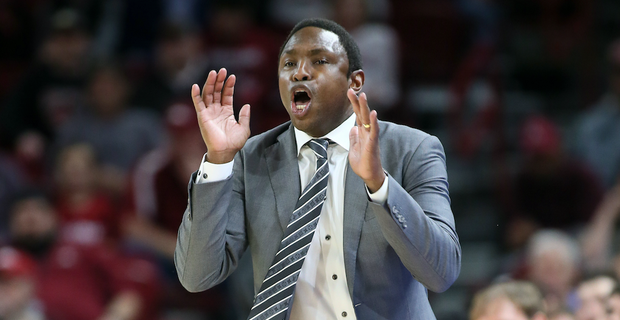 "The Crimson Tide limped home at the end of the season and now find themselves on the outside looking in," Palm wrote for CBS Sports. "Alabama is just 17-14 overall and needs to do some serious damage in the SEC Tournament to have any shot at an at-large bid."
Alabama was in a similar position last year, losing five in a row prior to the SEC Tournament. It even had an identical record at 17-4 and 8-10 in league play. The Tide went on to win a couple of games against Texas A&M and Auburn to punch its ticket to the big dance. The big difference between the 2017-18 team and this year's squad, though, is last season's Alabama was led by an NBA lottery pick in Collin Sexton that put the team on his back down the final stretch.
Licking its wounds from the end of the regular season, Johnson and company will look to turn things around this week with the NCAA Tournament hanging in the balance. But at this point in the season, Alabama is still searching for consistency, a go-to scorer and motivation.
"Different teams get motivated in different ways," Johnson said. "We'll talk about (last year) a little bit, but with our team, I'm not sure if that motivates them or not. So, I've got to figure out what motivates our team. Obviously last year we had a guy that was an All-SEC player that's playing in the pros now, and he pretty much willed us through a lot of those games with his toughness. Now, we're trying to do it a little bit more collectively as a team.
"We've just got to figure it out. Hopefully, we'll be able to say something to spark our team this week because the SEC Tournament is tough."
Contact Charlie Potter by 247Sports' personal messaging or on Twitter (@Charlie_Potter).
*** Don't miss a VIP update with our FREE trial of BamaOnLine. Sign up HERE ***